The Structure
The building consists of nine framed tubes, which are actually nine skyscrapers on themselves taken together into one building. Originally, the plan included no less than 15 tubes, but when the planned hotel was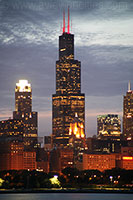 Sears Tower at dusk
taken out of the project, only nine tubes were used in the final designs. The nine tubes all reach forty-nine stories. At that point, two tubes end. The other rise up to the sixty-fifth floor. From the sixty-sixth to the ninetieth floor, the tower has the shape of a crucifix. Two tubes, creating a rectangular, reach the full height of 442 meter (1451ft).
Wind Load
The result is an interesting tower, which looks different from all angles. The construction, designed by Fazlur Kahn (1929-82), has other advantages : the construction with separate tubes provides lateral strengths to withstand the strong Chicago wind loads, as each tube only needs to take a part of the pressure.
Observation Deck
The Sears Tower's observation deck - known as the skydeck - is one of Chicago's most popular attractions. At 1,353 ft or 412 m, it Chicago's
The view from the Skydeck on the 103rd floor of the Willis/Sears Tower is amazing! On a clear day, you can see 40-50 miles -- the city of Chicago and its beautiful architecture, Michigan, Indiana and Wisconsin.

For your enjoyment on the way up, the elevators are equipped with 50-inch flat screen monitors that make you feel like you're blasting off through the top of the Sears Tower and into space - with views of the earth compliments of NASA and the Space Shuttle Endeavor.

The Skydeck also features interactive, museum-quality exhibits highlighting Chicago's history and historic characters. Interactive kiosks provide a tour of Chicago's landmarks. Knee-High Chicago is a kid-level display that extends all the way around the Skydeck. Cool cut-out windows put kids eye-to-eye with scenes from Chicago's most fascinating moments in history. The Skydeck also has high-tech, high-powered telescopes for a closer look at the city.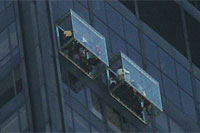 Ledges on the Sears Tower


Highest observatory, besting the John Hancock Center's by 323 ft (98m).
The most spectacular attraction at the skydeck is 'the ledge', a glass balcony extending 4.3 ft where you can look straight down. It will make most people feel uneasy at first but the balconies offer spectacular views over Wacker Drive and the Chicago River.